The value of bathing waters and the influence of bathing water quality
CEP was commissioned by the Scottish Government to explore how people value Scotland's bathing waters and the influence of bathing water quality (BWQ). For this project, CEP partnered with eftec who provided specific expertise on monetary valuation methods and local economic impact analysis.
The revised Bathing Waters Directive (rBWD) (2006/7/EC) regulates BWQ in the EU, requiring member states to achieve a classification of 'sufficient' and above for their designated sites. The challenge of implementing the rBWD lies in balancing the costs to stakeholders of maintaining BWQ at 'sufficient' and above versus the costs of not maintaining 'sufficient' status (e.g. in terms of reputational damage, less uptake of recreation). The former is generally well known, however, the costs of not maintaining 'sufficient' status, in terms of the loss of the range of benefits provided by bathing waters, are less well understood. This was the key gap investigated in this research project.
A mixed methods research design was adopted to tease out different conceptions and perspectives concerning the 'value' of bathing waters (see figure). Within this, a fieldwork component (focus groups and beach-user surveys) was undertaken at five case study bathing waters selected to capture a range of different rBWD statuses and site types. An evidence review was undertaken at the start of the project to understand the current state of knowledge against the research questions being investigated and to inform other aspects of the project.
CEP led on the qualitative aspects of the research, including carrying out focus groups with local communities and businesses in five coastal locations across Scotland (see map), and the synthesis of evidence concerning different perspectives on value (see figure above). Focus group transcripts were analysed thematically.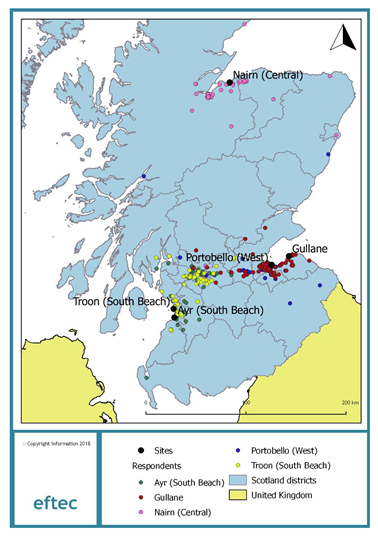 The final report collated findings against a range of research questions concerning the use and value of Scotland's bathing waters including:
(i) the activities undertaken at bathing water sites and associated benefits (e.g. psychical and psychological restorativeness, local economic impacts);
(ii) peoples' reasons for visiting bathing water sites, their awareness of rBWD designation and classification and behavioural response to advice against bathing in the instance of poor BWQ;
(iii) the costs and benefits of a deterioration or improvement in BWQ;
(iv) the economic impact of advice against bathing; and
(v) the impact of a deterioration of BWQ on the restorative benefits of bathing waters.
Overall, the research demonstrated how Scottish bathing waters deliver multiple benefits to local people and their communities, local businesses and visitors, covering many different aspects. The research also showed how BWQ can impact these benefits (e.g. perceived restorativeness of bathing waters is higher when perceived BWQ is higher, survey results revealed that there would be a reduction in visits and loss of recreational value in the event of permanent advice against bathing), which suggests that bathing waters should be an ongoing area of policy and management for the Scottish Government, SEPA and other key stakeholders.
For further information please contact Dr Clare Twigger-Ross (Technical Director)